Goal
Understand fundamentals about waveforms, and some of their special properties.
What is a sound wave?
A sound wave is a type of mechanical wave that propagates through a medium, transferring energy from one point to another. It is the result of the periodic compression and rarefaction (expansion) of the particles in the medium. Sound waves are generally longitudinal waves, meaning the oscillations of the particles are parallel to the direction of wave propagation.
What causes a sound wave?
Sound waves are caused by sonorous or resonating bodies, meaning actual physical surfaces are moving. These vibrations cause the surface of the body to move up or down. This causes the pressure to move up or down also. If nothing is vibrating then the air will reach a steady state pressure. When something vibrates that steady state is "excited".
Compression and Rarefaction
When the body moves out it causes the air there to compress (increase in density) and this sends a compression wave off. When the body sucks in it causes rarefaction (a reduction in density) of the air and sends a "negative" compression wave off.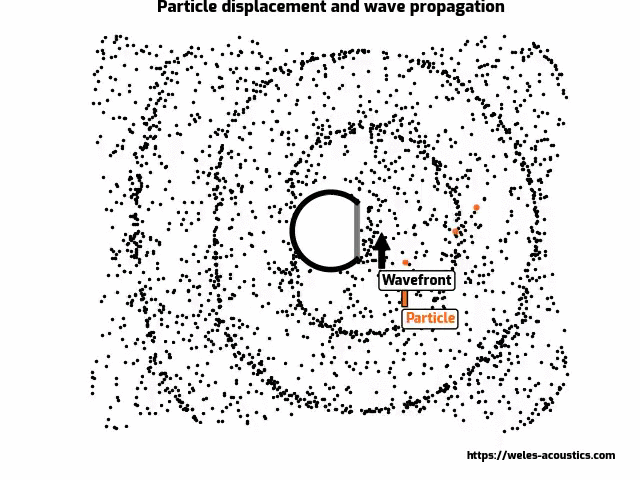 Nodes
The 0 state is where the body at rest will be the state with no rarefaction or compression and hence the wave will not be perceived at this point. We call these points "nodes".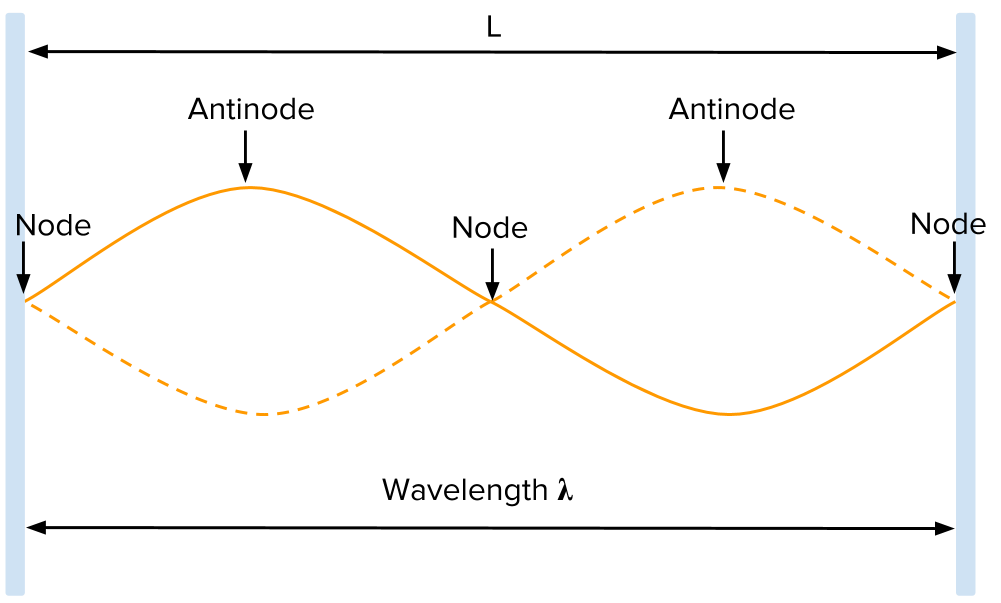 Particle Behavior
Notice that the particles do not move. The wave instead propagates (goes forwarded) through the medium. The medium itself doesn't move forward. Instead the individual particles actually move in a circle like motion.
The wave can be affected by the medium, for example the speed will vary depending on the density of the medium.
Practice
Play a low tone, such as 100 Hz, and move around the room. You will find some spots are louder than others. There will be some spots where the sound almost disappears entirely, these are the nodes. The spots that the sound is the loudest are the anti-nodes. These line up with compression and rarefaction points. Now change the frequency, you will find the nodes move! As the frequency increases what will happen to the spacing between the nodes?
Reveal Answer
It will get closer! So more and more nodes will fit in the room. At very high frequencies there will be so many nodes that they cease to be a problem, but for low frequencies their distance is so large that they can dramatically affect listening environments and will need to be addressed
The reason the nodes sit still is due to standing waves, a wave occurrence we will get into more later.
String Experiment
To support this series please consider donating via
paypal
or joining the
patreon
.